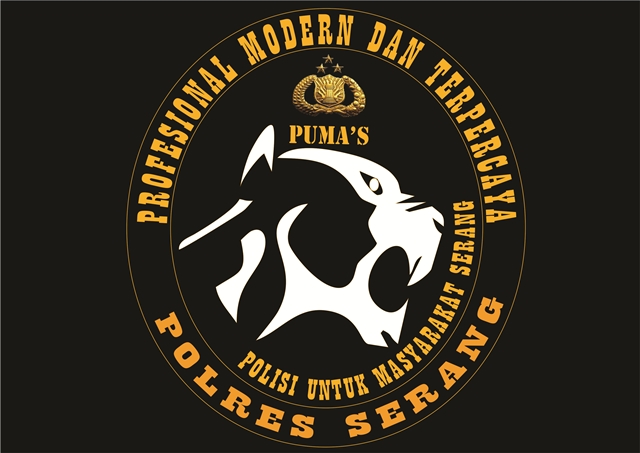 TRIBRATA NEWS POLDA BANTEN – Tim PUMA'S merupakan  sebuah tim khusus yang dibentuk dan berada di bawah komando serta bertanggung jawab langsung kepada Kapolres Serang AKBP Wibowo. Awal terbentuknya TIM Puma's dikarenakan rasa kepedulian yang tinggi para PJU  Polres Serang akan meningkatnya gangguan GKTM  seiring perkembangan jaman.
Kehadiran tim PUMA'S juga merupakan wujud nyata menghadirkan kembali Negara untuk melindungi segenap bangsa dan memebrikan rasa aman pada seluruh warga Negara guna mendukung program Nawacita. Kegiatan tim PUMA'S merupakan penggelaran personil pada malam hari sebagai wujud penguatan pemeliharaan kamtibmas dalam program promoter dan Quick Qwins Polri.
Nama TIM PUMA'S sendiri lahir sebagai wujud kecintaan yang tinggi terhadap Masyarakat serang, PUMA'S sendiri merupakan singkatan dari Polisi Untuk Masyarakat Serang, dimana puma's melambangkan semangat dari personil polres serang yang memiliki semangat juang untuk menjaga kamtibmas diwilkum polres serang kab seperti harimau.Ikatan pergerakkan personil tim PUMA'S sendiri selalu dalam ikatan regu bukan perorangan.
"Personel tim ini direkrut dari berbagai Satuan Fungsi diantaranya Sat Reskrim, Sat Intelkam, Sat Lantas, Sat Binmas dan Sat Narkoba yang telah dilakukan seleksi terhadap anggotanya agar dalam pelaksanaan tugasnya Tim PUMA'S dapat memaksimalkan kemampuannya sesuai dengan Satuan Fungsinya masing-masing," ujar AKBP Wibowo.
Adapun personil PUMA'S direkrut melalui beberapa tahapan seleksi. Personil yang dipilih harus memiliki beberapa keahlian diatas rata-rata baik kemampuan secara akademis maupun keahlian khusus lainnya seperti kemampuan menembak, Sniper, beladiri judo, mengemudi kendaraan roda dua dan empat, kemampuan intelijen, kemampuan memberikan penyuluhan.
Tim PUMA'S terbentuk dan lahir untuk melakukan  penanganan terhadap berbagai pelanggaran  maupun tindak pidana serta hal-hal yang dapat menimbulkan keresahan masyarakat dan gangguan kamtibmas, Sebagai bhayangkara sejati PUMA'S mempunyai tugas pokok seseuai dengan yang diamanatkan dalam UU no 2 tahun 2002 dalam  pasal 13 yaitu Harkamtibmas dan menegakkan hukum serta memberikan perlindungan, pengayoman dan pelayanan kepada masyarakat.
Menurut penuturan Kapolres Serang AKBP Wibowo, tim khusus yang ia bentuk bersama Waka Polres Serang Kompol Heri Sugeng dan Kabag Ops Polres Serang Kompol Agung Cahyono beserta jajaran PJU Polres Serang lainnya bukanlah tim seperti Reserse Kriminal. Akan tetapi seperti yang telah terangkan sebelummnya, sebagaii gambaran  ketika terjadi aksi pembegalan Tim PUMA'S tidak melakukan penyelidikan, disidik pelakunya, lalu berikutnya melakukan penindakan.
"Kita tidak seperti itu. Kita Patrolman, patroli di mana lokasi yang rawanitu, supaya tidak terjadi TindakKejahatan," jelas Kapolres Serang.
Tim PUMA'S merupakan satuan pemukul Polres Serang yang mempunyai tugas untuk memberikan back up perkuatan ke jajaran baik Satuan fungsii maupun polsek zona jajaran dalam menghadapi berbagai macam tantangan tugas karena personilnya selain memiliki beberapa keahlian khusus dan diatas rata2 mereka juga dibekali persenjataan yang lengkap.
Sejatinya Tim PUMA'S Polres Serang  memang  pantas disebut profesional karena Secara kemampuan mereka diatas rata2 baik kemampuan tehnis maupun taktis, modern karena mereka sudah dilengkapi dengan sarana dan prasarana modern dan yang terakhir terpercaya karena dalam proses perekrutannya sudah melalui berbagai tahapan seleksi. Mereka ini merupakan personel – personel yang memiiki kemampuan khusus dan dilatih secara khusus seperti teknik  tembak  taktis, pertempuran jarak dekat (Close Quarter Battle/CQB) , kemampuanberkendara (Safety Riding) dan Crisis Response Team atau CRT.
Walaupun dalam jumlah kecil, Tim PUMA'S pantang menyerah dan tidak mengenal rasa takut untuk berhadapan dengan para pelakuTindak  kejahatan  yang mengganggu Kamtibmas diwilayah Hukum Polres Serang maupun kejahatan yang memilki intensitas tinggi atau kontijensi.
Moto utama tim ini adalah ' DO THE BEST AND LET GOD DO THE REST ' artinya lakukan yang terbaik dan percayakan apapun hasilnya pada Allah Swt. Ciri  khas tim PUMA'S ini adalah kehumanisannya terhadap  siapapun. Berbeda dengan pasukan atau satuan penindak, tim ini selalu mengutamakan komunkasi yang halus dan lembut kepada setiap lapisan masyarakat sebagai kunci kesuksesan dalam mengemban tugas.
"Kita berlatih terus dan selalu melakukan analisa dan evaluasi baik kemampuan personil maupun sarana dan prasarana agar lebih profesional, Modern dan Terpercaya dalam bertindak dilapangan, di samping itu kita juga berupaya secara maksimal untuk memebrikan pelayanan prima  kepada masyarakat, Karena intinya TIM PUMA'S  bertugas untuk menghilangkan dam Mencegah terjadinya Tindak Kejahatan dan berbagai macam gangguan kamtibmas serta Memberikan Rasa aman dan nyaman di masyarakat," jelas AKBP Wibowo. (ganjar/id)